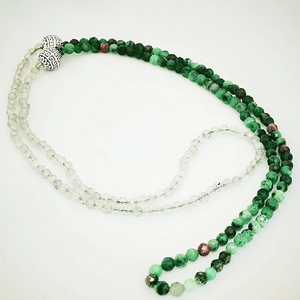 15 Meaningful Jewelry Gifts for this Season
Give your friends and loved ones a token of your affection with a gift that tells a story. Instead of rushing to the department store at the last minute to buy a cheap bracelet, browse our selection of ethically sourced jewelry and accessories. Stones with a special meaning might speak to you most, or you may instead be compelled by a story about the Greek Gods. In addition to the thoughtful material choices and mythological inspiration behind our jewelry, a portion of your purchase will go to a non-profit organization for empowering youth and refugees. Give the gift of giving, and narrative through fashion.
The Gods and Monsters Collection - Echo and Narcissus
To start off our list of meaningful gifts, the Echo and Narcissus necklace from the Gods and Monsters Collection is a beautiful selection of hand made jewelry for your loved one. This boho chic accessory is made of anyolite for joy and labradorite for self discovery. These meanings are fitting for its mythological inspiration. The beautiful nymph Echo was enamored with Narcissus, who was so in love with his own reflection that he never noticed his suitor. But the synergy of the forest-like green and crystalline translucence of water brings the two lovers together.
Gods and Monsters - The Nuwa Bracelet
Another jewelry creation from our Gods and Monsters collection, The Nuwa Bracelet glimmers with rose quartz and a rustic appeal. We draw inspiration from ancient Chinese art, specifically from the Chinese Goddess named Nüwa. The goddess of wedding jewelry, Nüwa signifies infinite desire between married couples. Looking down upon earth from her Celestial Realm, Nüwa gave birth to humanity by filling a clay form with love. Like rose quartz, she evokes a soothing presence.
Each Nuwa bracelet is made with delicate rose quartz that evokes a feeling of love. Between sections of rose quartz lie golden embellishing accents, intricately detailed and dazzling.
Black Tassel Earrings
Simple, sleek, and mysterious, the Black Tassel Earrings are jewelry for a cause, handcrafted by women war refugees from Sri Lanka who live in refugee camps in India. These dangling earrings boast detailed engravings on a metallic base, and the tassels are made with fine, black filaments. An exquisite but subtle embellishment, the tassel draws inspiration from African tassel jewelry, French couture, and Middle Eastern traditional garb. They are a perfect pairing for any woman's little black dress.
Paisley Park Earrings
Indulgently crafted with handmade Dhokra Brass, these Paisley Park Earrings are unique earrings inspired by ancient Indian art and folk culture. Dhokra metal casting originates in Orissa, India, a lineage craft that is largely forgotten. With efforts to preserve these traditions even in the modern era of fashion, we use these ancient art techniques to create a delicate paisley motif with intricate engravings. Paisley pieces hang delicately from round tokens engraved with a sun-like pattern. The lost wax technique was used to create ornate images of gods and goddesses on lamps and boxes.
Zola Long Mughal Mural Hand Painted Seed Earrings
The Zola Mughal Mural Hand-painted Seed Earrings are ethically sourced and draw inspiration from cultural fashion trends. Truly one-of-a-kind, each seed is individually dried and hand painted by trained miniature painters in remote Rajasthan villages. Each bead is unique. When you caress these handcrafted earrings in your hands, you'll know that each paint stroke was added with love and care.
The Goddess Collection - Helen Bracelet
The unique Helen Bracelet from the Goddess Collection is a handmade bracelet made with Charoite and Rose Quartz. Charoite is a spiritual stone symbolizing presence and acceptance, and rose quartz signifies love. Helen of Troy was the most beautiful goddess, and her love for the Greek god Zeus was unrelenting and strong. Empower your beloved with this handcrafted bracelet.
Related: The Story of the Goddess Collection
Gods and Monsters - Apollo Bracelet
Apollo, the God of Music and protector of herds, is a protecting presence who liberated people from pain and played his lyre at weddings for the gods. A companion of the three Muses, he was also an oracle who could foresee the future. Inspired by Apollo, the small-beaded bracelet adorns your hand with matte Green Turquoise. The Egyptians, Persians, Chinese, Aztecs, and native Americans all thought turquoise to be sacred and frequently used it in ceremonies. Like Apollo, turquoise is often associated with divination. Turquoise also has healing powers for headaches and balance.
Be Calm Volcanic Lava Bracelet
The unique Be Calm Volcanic Lava Bracelet consists of refined volcanic lava beads and a silver bead accent. They signify strength and hold healing powers, especially for promoting a sense of relaxation. These ethically sourced handmade bracelets are one of our bestsellers, and each purchase will help to fund education centers in 25 villages in rural India.
The Sunburst Necklace
This unique necklace is surely a statement piece, and no two are alike. Reminiscent of ancient East African spiked tribal necklaces, these unique pendants hanging from cloth are made from collected tea cartons and magazines transformed to look like lustrous jewels or shells. With a remarkable shimmer and distinctive aesthetic, the sunburst necklace is sure to turn heads.
Maasai Fire Tiered Necklace
Wear Everywhere Necklace
Our Wear Everywhere Necklace might just be your friend's new staple piece of jewelry. This unique necklace is made by hand, and features wooden beads encased in richly dyed natural cotton with a choice of ten colors. Between each wooden bead is a silver accent. These beads tell the story of minimalism and sustainability. They are luxurious despite their matte color. 
Related: Add Some Color to Your Wardrobe and See What Happens!
Coconut Dreams Necklace
The eye-catching Coconut Dreams Necklace invokes images from ancient Indian art. There are three unique pendant choices, but since they're hand-painted, each one is one-of-a-kind. The monkey pendant is inspired by the Hanuman langurs or monkey commander of the monkey army in the Hindu Sanskrit poem, the "Ramayana." The flower and vine pendant draws inspiration from the fragile Champak flower, which is sacred to the Hindu God Krishna. Finally, the peacock and tree pendant is inspired by the mythical Garuda bird who carried Lord Vishnu. 
Each of the three pendants are inspired by the dreamy tropical weather in India and Sri Lanka, constructed with coconut shells and brightly colored cotton cord.
The Goddess Collection: The Athena Bracelet
The striking Athena Bracelet inspires wisdom and strength, just like its namesake goddess. A beautiful handmade necklace of chrysocolla and blue-tigers-eye, the bracelet will allow you to pursue your business endeavors with controlled power and wisdom The chrysocolla stone is one of prosperity and entrepreneurial spirit, meant to boost your intuition. The blue-tigers-eye is a healing stone for eye problems and vitality. 
Surf's Up Surfer Necklace
A more simple but nonetheless beautifully crafted jewelry creation, the Surf's Up Surfer Necklace is a favorite amongst both men and women. A necklace that is perfect for cruising the waves and enjoying the ocean breeze, these unique necklaces have an additional meaning. Each of the surfer necklaces pays homage to a national flag, and you can choose between four color combinations. The beautiful colored beads are accompanied by wooden beads, creating a detailed monochromatic palette with subtle differences in tone. These make for great couples' necklaces, and you and your partner can mix and match colors.
Gods and Monsters: Hyacinth Bracelet
High in contrast, the Hyacinth Bracelet from our Gods and Monsters line combines the protective qualities of the healing stone, fluorite, and the youthful qualities of amethyst. Fluorite, an aqua-colored stone for harmony and groundedness, helps to lift the spirits. Amethyst is a healing stone for physical ailments and the emotions. Together, they create the power of Hyacinth, a Greek hero beloved by Apollo. It was Hyacinth who gave Apollo his musical capabilities.This unique creation combines the powers of darkness and light, fragility and strength. 
Choosing a Gift
Now that you have seen some of our unique jewelry at Now Chase the Sun and have a brief background of the meanings behind our products, know that it is you who can complete the story behind whichever gift you choose. Think about the material function and inspiration behind each piece, and which is the best fit for the person for whom you are buying the gift. 
The black tassel earrings might be perfect for a monochromatic dresser, adding a subtle accent to a sophisticated outfit. The Apollo Bracelet might best suit an appreciator of music, and each time they sit down at their instrument, they will think of you. The Athena bracelet will complement your business-minded friend and help them present with confidence at any meeting. Every choice is special, and you cannot go wrong with any of our sustainable, unique selections.
Read more about Koshi, the founder of Now Chase the Sun, and her inspiration behind some of the jewelry you see here. You can find out more about her partners across the globe and how they work together to promote an empowered, sustainable future in style and fashion.
Related: Asking for Help and Saying Thank You
---