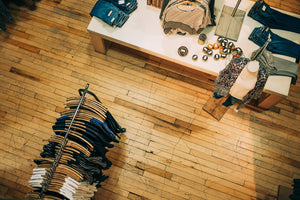 The Best Places to Buy Affordable Ethical Clothing
Affordable, ethical clothing brands used to be a challenge to find but recently many have popped up offering great designs and high quality, all at competitive price points that don't break the bank. 
These brands are also pioneers in the sustainable and ethical clothing movement. Developing innovative ways to manufacture their clothing to reduce environmental impact and offering radical transparency end-to-end in their supply chain for consumers.
If one's looking for a guilt-free shopping experience, here are the best places to buy affordable ethical clothing. 
For the purpose of this article, we're using the following price scale:
$: Usually below $50
$$: Usually $50–$100
$$$ | Usually $100-150
 $$$$ | Usually over $150
1. Now Chase The Sun
Website: https://www.nowchasethesun.com
Philosophy: Create economic opportunities for craftspeople and refugees
Products: Handcrafted jewelry, artisanal dog collars
Price: $ - $$
Based in: San Francisco
Now Chase The Sun believes in the notion that style and art have no gender. The brand provides an extensive collection of clothing accessories such as bangles, bracelets, earrings, and necklaces - all ethically sourced and made. Each product is hand-made with no mass production, and the brand also supports charities by donating a portion of their profits. Their products are made by artisans and refugees with low incomes as well as small business owners or entrepreneurs.
The brand is run by Koshi, who brought together her unique style with her vision of creating change that really matters. Rather than just provide immediate economic aid, Now Chase the Sun fosters autonomy by providing craftspeople with opportunities to create and make their own profits. At Now Chase the Sun, we're especially dedicated to the causes of sustainability, the refugee crisis, and education for women and girls. That's why we use recycled materials and donate some of our proceeds to various education centers. Check out our shop here!
Related: Add Some Color to Your Wardrobe and See What Happens!
Interested in finding out more? Check out our line of jewelry at Now Chase the Sun.
2. Everlane
Website: https://www.everlane.com/
Philosophy: Radical Transparency and ethical craftsmanship
Products: Men's and women's apparel, business casual
Price: $$ - $$$
Based in: Los Angeles
Everlane has long stood for radical transparency and believes in selling ethically-made affordable basic wear. They offer a wide assortment of items such as apparel, shoes, and accessories. Their one of the more prominent and large-scale sustainable brands out there and make it a point to be very clear on how their items are made. They even offering consumers the chance to visit their factories online to gain a peek into how things are made and by whom. 
3. PACT
Website: https://wearpact.com/
Philosophy: Sustainable, fair trade materials
Products: Menswear, womenswear, children's clothes, casual apparel and undergarments
Price: $ - $$
Based in: Boulder, CO
PACT is an organic, eco-friendly, and fair-trade brand that is GOTS certified. They offer lots of basics to wear that are long-lasting. They provide a range of items such as underwear, leggings, t-shirts, and hoodies. All of these are ethically sourced and fair-trade certified as well as being manufactured 100% organic. PACT is also affordable in pricing, and many of their clothing items are well-designed.
4. Nicopanda
Website: https://www.nicopanda.com/
Philosophy: Diversity, gender-neutral fashion, sustainable materials
Products: Gender-neutral streetwear
Price: $ - $$
Based in: New York City
Nicopanda offers streetwear and is designed by founder Nicola Formichette, who's a famous style icon in New York City. The brand is one of the few streetwear/hip-hop brands that are also gender-neutral and vegan-friendly with its clothing items while offering eclectic collections and vibrant prints.
5. Riley Studio
Website: https://riley.studio/
Philosophy: Radical transparency
Products: Upscale casualwear
Price: $$ - $$$$
Based in: London
Based in London, Riley Studio is a boutique clothing brand known for using recycled materials in its production. The brand boasts a transparent value chain and believes in doing better by the planet and its people. Riley Studio also partners with companies to innovate its manufacturing methods such as using recycled polyester and yarn. They believe in diversity and versatility; as a result, they've got a robust gender-inclusive philosophy when it comes to its clothing designs.
6. Toogood
Website: https://t-o-o-g-o-o-d.com/
Philosophy: Self-acceptance
Products: Gender-neutral workwear
Price: $$$$
Based in: Lancashire
Toogood was founded by Faye and Eric Toogood and is a gender-neutral and sustainable clothing brand. The brand's design sense is inspired by 'utilitarian workwear' and boasts a unique collection of items. They offer collections with unique stories that reflect the brand's values such as Collection 003, which highlighted the importance of self-acceptance and fighting against conformity. All items are designed and manufactured in Lancashire.
7.
Alternative Apparel
Website: https://www.alternativeapparel.com/
Philosophy: Eco-friendly clothing
Products: Casualwear and undergarments
Price: $ - $$$
Based in: Venice, CA
Alternative Apparel has been in producing eco-friendly clothing for a while now and is a brand that prides itself on the non-toxic and low-impact dyes it uses in the manufacturing of its clothing items. The brand offers affordable pieces both in clothing, bags, and accessories - all made by factories under fair labor practices, with a strong focus on fair pay and safe working conditions. It's sweatshop-free clothing!
8. Amour Vert
Website: https://amourvert.com/
Philosophy: Luxury sustainability
Products: Menswear, womenswear, floral prints
Price: $$ - $$$
Based in: San Francisco
Made locally in San Francisco, Amour Vert is an eco-fashion house that positions itself in the luxury tier. With cute prints and the use of high-quality fabrics, their items are built to last and look stunning. Rarely will you find an item under $100 but this price tag comes with an extremely sustainable supply chain that minimized the environmental impact as much as possible.
9. Eckhaus Latta
Website: https://eckhauslatta.com/
Philosophy: Global fashion
Products: Statement pieces
Price: $$$ - $$$$
Based in: Los Angeles and New York
Eckhaus Latta is a designer brand that can be found in high-end shopping centers globally. It's a strong believer in gender neutrality and makes this a prominent feature of their yearly fashion shows such as the most recent Spring/Summer 19' collection. Their items often carry bold prints and eloquent cowhide - all built to do any gender elegantly.
10. ABLE
Website: https://www.livefashionable.com/
Philosophy: Fair labor practices
Products: Clothing and accessories
Price: $$ - $$$
Based in: Nashville
The ABLE brand has always believed in offering clothes that are made ethically with fair labor practices. They also stand for empowering women in fashion and offer more than just clothing items. Recently, they've launched a jewelry and handbag collection that is also ethically produced. Slightly pricey, this comes with better fabric quality and charm - their pieces are thoughtfully made.
11. Mott & Bow
Website: https://www.mottandbow.com/
Philosophy: Minimize environmental impact
Products: Denim
Price: $$$
Based in: New York
A Canadian brand Matt & Bow has long stood for diversity in its hiring and the use of recycled packing to help minimize its environmental impact. They offer premium denim as well as t-shirts, all coming in a variety of fits and colors to suit women and men of any size. Every sale also results in a percentage being donated to Equitas - a human rights and equality advocate group.
12. People Tree
Website: https://www.peopletree.co.uk/


Philosophy: Local sourcing
Products: Womenswear
Price: $$ - $$$$
Based in: London
People & Tree has environmentally friendly clothing options and is a pioneer in eco-fashion and the use of organic materials. All clothing items are also made by locally sourced items as much as possible in order to support the local and marginalized communities. They focus on a minimalist aesthetic but offer a wide variety of color options. Each item is fair-trade certified and more on the affordable side. It's a great cheap sustainable clothing brand option with strong ethics and transparency offer one peace of mind with the purchase.
13. Outdoor Voices
Website: https://www.outdoorvoices.com/
Philosophy: Using recycled materials
Products: Athletic apparel
Price: $$
Based in: Los Angeles
Outdoor Voices provides lots of activewear for men and women at an affordable price. Their athletic items are durable and long-lasting and manufactured using recycled materials. The brand itself is continuously looking to improve its efficiency in using recycled material but also maintaining the high performance and quality needed for outdoor wear.
14. Krochet Kids Intl.
Website: https://www.krochetkids.org/
Philosophy: Local sourcing, reflect cultural values
Products: Apparel and accessories
Price: $ - $$
Based in: Spokane, WA, Uganda, Peru
Krochet Kids Intl. uses artisans from Uganda and Peru to create unique, on-trend apparel and accessories that reflect the cultural values and design sense of these artisan communities. The brand helps to empower these communities by offering fair wages and implementing a rigorous monitoring and evaluation system for the manufacturing practices employed there to ensure everything is ethical, fair, and safe. It employs these artisans as part of a program and supplements them with broader education so that they can lead empowered lives.
15. Tentree
Website: https://www.tentree.com/
Philosophy: Mitigate environmental impact
Products: Comfortable clothing
Price: $$
Based in: Canada
Tentree is best known for its eccentric graphic t-shirts and for their practice of planting a tree for every t-shirt purchased. The brand also has various sustainability initiatives underway that are not directly related to its business of selling clothing items. The company simply believes in doing good for the environment and reducing the negative impact brought on by the apparel industry.
16. & Other Stories
Website: https://www.stories.com/en_gbp/index.html
Philosophy: Sustainability
Products: Casual apparel
Price: $$$
Based in: Stockholm, Sweden
& Other Stories is one of the most sophisticated sustainable and ethical brands out there. It has spent considerable effort to minimize its negative impact on the environment and has sought to use renewable energy and recycled materials in all of its product lines. It also employs and advocates for transparency in the manufacturing process - offering fair wages and employing safe labor practices. As far as clothing goes, most items are trendy in design reflecting collections similar to what is offered by H&M or Zara - but better and higher in quality.
17. Made Trade
Website: https://www.madetrade.com/
Philosophy: Transparency
Products: Womenswear and accessories, furniture
Price: $$ - $$$
Based in: Portland, OR
Made Trade is another fair-trade clothing brand that believes in 100% transparency. It focuses on women's apparel, shoes, and accessories. Offering only USA made vegan items that are fair-trade certified and meets their sustainability values. The brand also gives back to charities a portion of its profits, and when it comes to ethical fashion brands with great designs, they're a great one to buy from.
18. Rad Hourani
Website: https://www.radhourani.com/
Philosophy: Transparency and sustainability
Products: Genderless luxurywear
Price: $$$$
Based in: Canada
Rad Hourani was one of the pioneers in genderless fashion, offering items way back in 2007. In fact, the designer was the first one to introduce a genderless collection. Hourani's store offers a variety of pieces that capture the eye. Jersey turtlenecks, artful vibrant prints, and monochrome shirts. Following ethical practices, this is a great designer brand if one's looking for items that are unique.
19. Sancho's
Website: https://sanchosshop.com/
Philosophy: Sustainability
Products: Clothing
Price: $$ - $$$
Based in: Exeter, UK
A boutique brand from the UK, Sancho's offers reasonably priced basics that are sustainably made. All clothing items are fair-trade certified and made only using natural organic materials. Offering both men and women options, this boutique curates their collection of apparel and accessories, making sure to only use organic and fair trade producers when doing so.
20.
KOTN
Website: https://kotn.com/
Philosophy: Transparent material sourcing
Products: Casual, business casual
Price: $ - $$
Based in: Toronto, CA
KOTN has gained popularity in recent years for being one of the few Certified B corporations with direct relationships with the farms that produce its raw materials used in manufacturing its clothing items. The brand offers fair wages to its employees and only works with partners who do the same. Sales from its items also involve a portion being donated to fund schools in Egypt where its Egyptian Cotton is sourced from.  Ethical and affordable makes KOTN a favorite among consumers. 
Takeaway
We can no longer ignore the fact that our impact is affecting the planet. It's critical that we try to be as sustainable as possible and take better care of our home. Luckily, there's no need to give up a love of fashion and style for the sake of saving the planet. Many fashion companies are taking a more sustainable approach to clothing. But no wardrobe is complete without accessories, so be sure to check out Now Chase The Sun for ethically sourced accessories.
Related: How We Got Here or There and Back Again
Want to start shopping for ethical accessories? Check out our line at Now Chase the Sun.
---