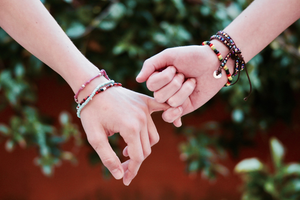 The Undeniable Importance of Focusing on Ethical Jewelry
On average, a newly engaged couple will spend $4,000 on an engagement ring. But if the diamonds are sourced from war zones, your happy day could be prolonging violence in war-torn areas. 
These are places like the Democratic Republic of Congo or Sierra Leon. An estimated 3.7 million people have died in wars funded by diamonds.
That's why it's vital when you're looking to add a new piece to your jewelry chest, you make sure it's ethical jewelry.
As a consumer, where you spend your dollars matter. You can use them to support businesses that damage indigenous communities and pollute the environment. Or you can put them where they'll do the most good. 
Before you buy your next piece of jewelry, here's everything you need to know about ethically sourced and sustainable accessories. 
Related: Why Investing in Developing Countries Helps All of Us
What is Ethical Jewelry?
Serendip Silk Thread Handmade Bangles
Ethical jewelry focuses on jewelry that is created sustainable. It's done in a way that supports indigenous communities and the environment as a whole. 
Ethical jewelry is often made:
With material that can be

sourced to its origin

and ensures its sourced ethically. 
With

recycled materials

like newspaper and magazines to eliminate waste and avoid environmental damage caused by mining.
With

gemstones and abundant seeds

to avoid human rights violations by mining.
Ensuring

no child or involuntary labor

is used in their sourcing or creation, and workers are paid fair wages for fair hours.
Ensuring sourcing practices

don't negatively impact the environment

or the surrounding areas. 
When you're looking for ethical jewelry, there are two main things you need to consider. These are traceability and sustainability. 
Traceability
When you're buying new jewelry, you need to know where it comes from. You need to be able to trace it to its source, down to its specific mine where the gemstones and precious metals left the earth. But this is a pretty big feat.
Being able to track this entire route shows that the jewelry company cares about what they're putting into the world. It proves they're choosing the best way to create high quality, ethical jewelry. 
Since the jewelers can source their materials back to the ground, the company can inspect every step. They can guarantee that humans and nature are being treated ethically. 
Sustainability
Secondly, we all want our jewelry to be sustainable. It needs to be sustainable for the land, for the communities involved, and in the business practices from which materials are sourced. This is why the jewelry company needs to be able to trace the materials back to its source. 
The Benefits of Ethical Jewelry
Gods and Monsters: The Apollo Bracelet
Ethical jewelry comes with plenty of benefits, too. First off, you know that no one was hurt in making your jewelry. But your jewelry can be something you can be proud to stand by too. 
Creating Economic Opportunities
Ethical jewelry creates economic opportunities for developing countries. It also ensures people aren't being taken advantage of in areas where there's not a lot of protective oversight.
Increased Transparency for Businesses
Consumers want to know their purchases are going to support a good cause. So businesses have to be able to prove their materials are ethically sourced. This is done through fair trade practices that protect the environment and the people around them.
Consumers now have a right to ask a business to prove their jewelry doesn't ruin lives in its production. 
Other organizations, like Good On You, examine brands to see how well they meet standards for ethical jewelry. This helps businesses make real, positive changes in the world and lets consumers put their dollars where they matter most. 
Following Fair Trade Practices
Fair Trade Certification is a third-party certification. It originated to protect the people responsible for sourcing the things we consume. In many industries like agriculture, fishing, and jewelry creation, the people at the source are abused and neglected along the way. 
Fair Trade wanted to change that, and ensure laborers were safe and well-compensated for the vital work they do. Fair Trade also ensures goods are produced without involuntary labor or child labor and that they've done so in safe working conditions. 
That's why you may want to purchase your gold from a company that meets Fair Trade standards, instead of recycled gold. There's evidence that using recycled gold doesn't prevent any new mining. The demand for gold's value alone means that whether you buy it in your ring or someone else buys it for wealth, gold will still be mined. 
But if you buy gold from a company that ensures Fair Trade standards, it means that the people mining your gold will be doing so safely. They'll have protective gear while handling mercury. Gold mining is the largest cause of mercury pollution, often by small scale miners. 
No Child or Forced Labor
Since the movie Blood Diamonds came out in 2006, people have been more concerned and aware of the way their jewelry purchases impact the world. 
By opting for ethically sourced jewelry, you ensure that forced labor and child labor weren't involved in creating your bling. We don't have to explain why that's an awesome thing.
More Unique Products
The cruelty that existed in the jewelry industry for centuries can't be undone by opting for more ethical means of sourcing materials. Some argue that consumers turning to ethical jewelry is letting big jewelers off the hook. 
In 2000, The New York Times argued jewelers are turning "conflict-free diamonds" into a virtue. Instead of facing up to damages done to affected communities, they get to tout their ethical jewels.
No one has ever had to take responsibility for those atrocities. No restitution has ever been made. 
So some jewelers are opting to find new ways of creating jewelry. They're going away from traditional sources of jewelry like gold, silver, or diamonds. They're turning to more sustainable and ethical sources for jewelry. 
We see a wider variety of new styles and materials in jewelry than has ever been seen before. 
Ethical Jewelry Certifications and Standards
Now there's a demand for ethical jewelry and clarity all along the manufacturing and sourcing process. Despite this, there isn't a lot of ethical certification in the fine jewelry industry. Below, we've listed the existing certifications.  
Responsible Jewelry Council
The Responsible Jewelry Council is verified by an independent third-party certification process. It holds a set of standards called the RJC Code of Practices to promote best practices and sustainability in the fine jewelry industry. These practices directly align with 17 of the United Nations Sustainable Development Goals. 
Responsible Jewelry Council code of practices looks at issues within the supply chain itself. It has a Chain-of-Custody Certification that tracks a precious metal or gem from its source.
This ensures that its manufacturing meets ethical standards all along the supply chain. It watches for things like business ethics, human rights, and social and environmental impacts.
Kimberly Process
The Kimberly Process was introduced to keep diamonds from fueling war zones and conflict. At the same time, it protected legitimate rough diamond trade. The Kimberly Process requires members to certify the sources of their rough diamonds to keep conflict diamonds out of the market. 
However, the Kimberly Process has come under fire. It has been incredibly effective at ensuring diamonds don't directly fuel warzones. But at the same time, it neglects other basic human rights and sustainability issues. 
The Kimberly Process focuses on blood diamonds and blood diamonds alone. It doesn't pay attention to broader issues like:
Exploitative labor policies

Poor working conditions

Child labor

The displacement of entire populations
So while the Kimberly Process is a vital element in ensuring diamonds don't fund wars, it's not a sign that jewelry was created truly ethically. 
Beyond Conflict Free - Brilliant Earth
Brilliant Earth boasts that their diamonds go above and beyond the Kimberly Process standards. They meet internationally recognized labor, trade, and environmental standards.
This means their diamonds don't fund rebel movements and don't involve child or forced labor. They minimize environmental impact, support community development, and ensure safe labor practices. 
It looks as though Brilliant Earth might be doing a lot to ensure their diamonds are of high quality. But it looks like they miss the mark and don't have fairmined gold. 
Fairtrade Gold
Fairtrade Gold is a standard in the UK to ensure ethical practices when sourcing gold. However, very few jewelers in the U.S. have adopted this standard.
What's worse, is Fairtrade Gold is a standard, but Fair Trade Gold is meaningless. It's like the phrase "all-natural" in food. It sounds good, but it doesn't have any real backing to it.
Doing Your Own Research
As you can see, each of these organizations have their flaws. It's hard to know exactly where your jewelry comes from unless you do a little bit of digging yourself. If a jewelry brand provides transparency, that's a good sign. Start there and flip through the website, and contact the crafters if you have any remaining questions.
At Now Chase the Sun, we're all about transparency. If you want to learn more about our products and process, read about Koshi and how she stays committed to artisan craftsmanship and underserved communities.
Ethical Jewelry
At Now Chase the Sun, we pride ourselves on carrying ethical jewelry. We focus on upcycling abandoned materials like seeds, tires, or newspapers to create truly unique works of art. 
We collaborate with different artists from all over the world to create locally sourced and sustainable jewelry. 
Check out or Be Calm Volcanic Lava Bead Bracelet. Proceeds go to build schools in 25 villages in India, so over 1500 children can get the education they deserve. It's one of the ways charity bracelets can help change the world. 
Or you might like the Zola Long Mughal Mural Hand Painted Seed Earrings. Each unique pair helps support painters in small villages in Rajasthan. 
Related: Charity Bracelets: Are You Actually Helping a Good Cause?
Choosing Ethical Jewelry is Choosing a Better Future
The choices we make with our purchases dictate the way our world grows. Choosing ethical jewelry from safe, clean sources protects indigenous communities. It keeps contaminants out of vital waterways and our environment as a whole. 
When you choose ethically sourced jewelry, you're making a statement. You're saying you won't stand for the kind of indecent treatment evident in the creation of many pieces of jewelry. 
Make sure your next piece of jewelry makes a statement you can stand by. Check out our complete line of ethically sourced jewelry pieces at Now Chase the Sun. 
---